Why it's a Good Idea to have Ski Lessons
First-time on a ski trip? Trying to get your kids into skiing? Feeling a bit rusty on the slopes? There's one solution: ski lessons.
But, recently, more and more skiers are braving the slopes without the helping hand of an instructor.
We're here to change that! Here's why it's a good idea to have ski lessons.
You can Learn at your Own Pace
The lessons are tailored to suit your ability and rate of progression, allowing you to improve without any pressure from faster members of your group. Typically you will advance quicker, probably allowing you to re-join the group sooner than you expected!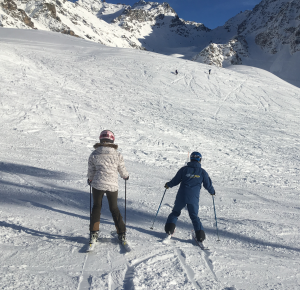 You'll Get the Full Experience
Adrenaline junkies listen up!
Lessons aren't only for first-timers! Many of the more adventurous experiences, such as Itineraries and off-piste skiing require a refinement of technique to be enjoyed.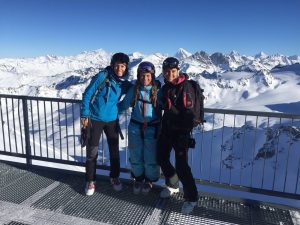 There are a variety of courses you can choose, including off-piste, and lessons in moguls. If you've been to the slopes before, and just need to refresh your technique, an instructor can help you push your skills even further!
So, even if you have a taste for danger, we highly recommend getting lessons.
Easier to Take Advice from an Impartial Individual

The odd technique tip here and there won't hurt from family and friends, but will not improve your skiing as quickly as with an instructor.
Instructors know how to teach each movement in a multitude of ways and descriptions to suit each individual. Told once to do something incorrectly, and you spend your entire next trip trying to undo the bad habits!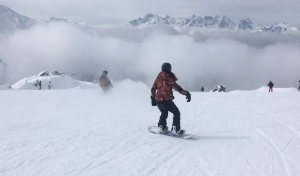 Everyone wants to enjoy their holiday in the mountains, and often teaching close family members can cause unrest. People choose instructors to learn to drive for this reason, and skiing is no different.
There are many tips to help you improve your skiing, but none as important as taking lessons.
You'll Pick Up Good Habits
Maintaining a good technique will allow you to ski all terrain and snow types. Having a good technique helps to prevent injury, and is more efficient- keeping you out skiing for longer!
Prolong your skiing career with lessons.
Safety (for you and others)
An Instructor will teach you the rules and etiquette on the mountain, helping you, and the people around you, to enjoy the sport safely.
They will teach you how to control your speed and line, and how to adapt these to the current conditions on the mountain. They will know how much to push you to improve, yet stay safely in control.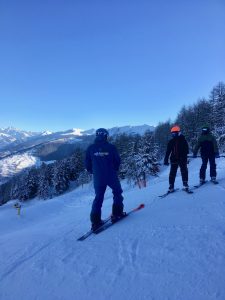 You'll Be More Confident
If you want to master the slopes, confidence is key.
Realistically, lessons are the only way to truly become confident on the pistes because the instructor controls all the variables, leaving you to focus on the actual skiing.
Once you've mastered the fundamentals, you'll have your pick of the slopes!
If you're trying to get your kids into skiing, allowing them to make mistakes and learn from them independently is the quickest way, and usually where they have most fun. You can't beat the hands-on tuition of an instructor!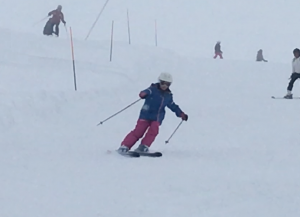 Tempted to head out to the mountains? You just need to work out where you're staying. Alpine Infusion  offer a variety of luxury chalets in Méribel and Courchevel, perfect for an unforgettable holiday.
http://alpinemojoskischool.com/wp-content/uploads/2018/08/Screen-Shot-2018-08-20-at-20.15.29.png
620
856
brightdesign
http://alpinemojoskischool.com/wp-content/uploads/2018/06/AlpineMojo-Long-No-Bckgrd-1-300x80.png
brightdesign
2018-08-21 07:50:57
2018-08-21 17:30:16
Ski Lessons: Why they are a Good Idea