Our top tips to making the most of your Ski holiday
I'm not really a "new year, new me" kind of person but sitting writing this just after New Year; it's hard not to be enveloped in the positive atmosphere that a new year can bring.
Heading to the snow this year? These are the things I'm positive will help you make the most of your ski holiday. This year it is all about investing time in yourself, friends, and your family.
We will probably hear a lot more about this one in 2019, but here it is: put your phone away.
Imperative to work from the slopes, and also a fantastic tool; I myself am guilty of constantly being on my phone! Checking emails on the lifts, and trying to get that epic skyline for the 'gram. Never mind the footage when I feel I am skiing like Didier Cuche (no way near, it turns out). However, being on a ski holiday away from the normal routine is the perfect opportunity; to take a break from the attachment we have to our phones. What a beautiful place to do it!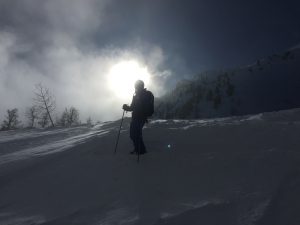 For sure, document your time on the slopes but dedicate a few hours a day to; Enjoy being with your family appreciate where you are, and really live in the moment.
Have a lie in. You are on holiday after all! Particularly for some children, being made to get up early every single day makes skiing a chore, and feel more like school. Presumably, you pick a winter holiday because you love skiing/boarding yourself, and to pass on that passion to your children means making sure they love it too.
It doesn't have to be every day, but remember that you are all on a break from your usual routine, and it is a time to rest. If you'd still like them to take lessons everyday, skip a day of group lessons for a private instructor, start later, and this way they can start one of their days a bit fresher, and a bit happier.
Family time is important. So important that, in our ski school we often encourage a day break from tuition so that your children can spend time with you. Making memories is what keeps skiers and boarders coming back for more each year, and making time to do that as a family is paramount.
For all of us working in the Alps, now more than ever is an uncertainty of what the future of ski tourism is, from politics, to exchange rate, to climate change, so now more than ever is important to make the most of the opportunities presented to you in the mountains.
Invest in yourself, invest in your family, and take lessons. Even if you are extremely experienced:- a few pointers for one morning can make all the difference to the way you ski, and often where you are then able to ski. How often have you been petrified of ice / steep/ or moguls? Or even restricted by which restaurants you can go to? Instructors can teach you how to manage these conditions, and eventually you will enjoy all types of terrain.
I'm afraid that this also means not teaching your family to ski. It doesn't matter how amazing of a teacher or experienced of a skier you are, you will never come across as well as an impartial instructor. Sorry, but it's true.
I have known many families that have had arguments because of someone trying to help, but not quite getting the words right; quite frankly, it can ruin your holiday. Not even that; often the result is a bad habit in their skiing that is making it harder than it needs to be!
You've already invested the money, so this holiday, invest your time. Enjoy being with family and friends, and make memories that make you come back for more.
http://alpinemojoskischool.com/wp-content/uploads/2019/01/PHOTO-2019-01-03-09-58-16-2.jpg
1200
1600
alpine-admin
http://alpinemojoskischool.com/wp-content/uploads/2018/06/AlpineMojo-Long-No-Bckgrd-1-300x80.png
alpine-admin
2019-01-05 16:31:57
2019-01-09 12:55:35
Making the most of your ski holiday