Introducing: AlpineMojo Core
Although the AlpineMojo core mission statement remains the same;
to provide quality, individually tailored ski lessons from qualified and experienced instructors who have a passion for skiing.
We then realised that the AlpineMojo team has a wealth of experience, which then inspired us to expand beyond the traditional ski school. We had to be careful not to compromise our core products.
Ski Instructor Training
Firstly, we added our ski instructor training that launched in our first season. This is aimed at instructors going for their Level 3 exams, the programme is overseen by ex coach, Sega Fairweather. In order to pass exams, we include 180 hours of on-snow tuition, a pre-season fitness programme, video analysis, and ski tuning clinics. We have guest coaches for certain weeks of the programme, allowing alternative feedback for the candidates.
AlpineMojo Juniors
Secondly, we expanded to a weekend club for local kids. This group had a multisport focus of ski racing, freestyle, off-piste and technical training. Their improvement over the winter was fantastic to see. AlpineMojo Juniors was born, and you'll still see them zipping around the 4 Vallées in their blue and burgundy jackets.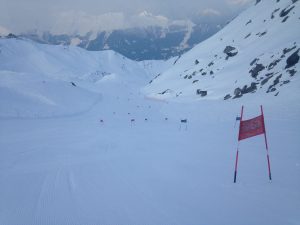 Race Training
With the recent delivery of our brand new gates, AlpineMojo are able to run Eurotest / Race training for instructors.
Look out for training dates here!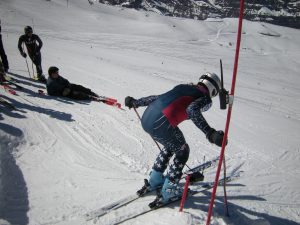 Other Projects
Then, in 2019, Eliott became involved with a Chinese project to coach athletes ready for the Winter Olympics in 2022. 30 athletes were picked based on their athleticism and were offered the chance to join the skiing programme. Most importantly, none of them had ever put skis on before! Then Eliott completed 5 months as the Head Coach for the National Chinese Development Team; and has hopefully given them a strong fundamental base from which to succeed.
Our team's experience inspired us to expand the services we could offer. Therefore we had to come up with a name that encompasses all that we are capable of doing.
We would like to introduce you to the
AlpineMojo Centre Of Racing and Excellence
aka
AlpineMojo CORE
http://alpinemojoskischool.com/wp-content/uploads/2019/11/Screen-Shot-2019-10-15-at-18.52.22.png
672
802
alpine-admin
http://alpinemojoskischool.com/wp-content/uploads/2018/06/AlpineMojo-Long-No-Bckgrd-1-300x80.png
alpine-admin
2019-11-25 16:33:14
2019-11-25 16:33:14
AlpineMojo Core